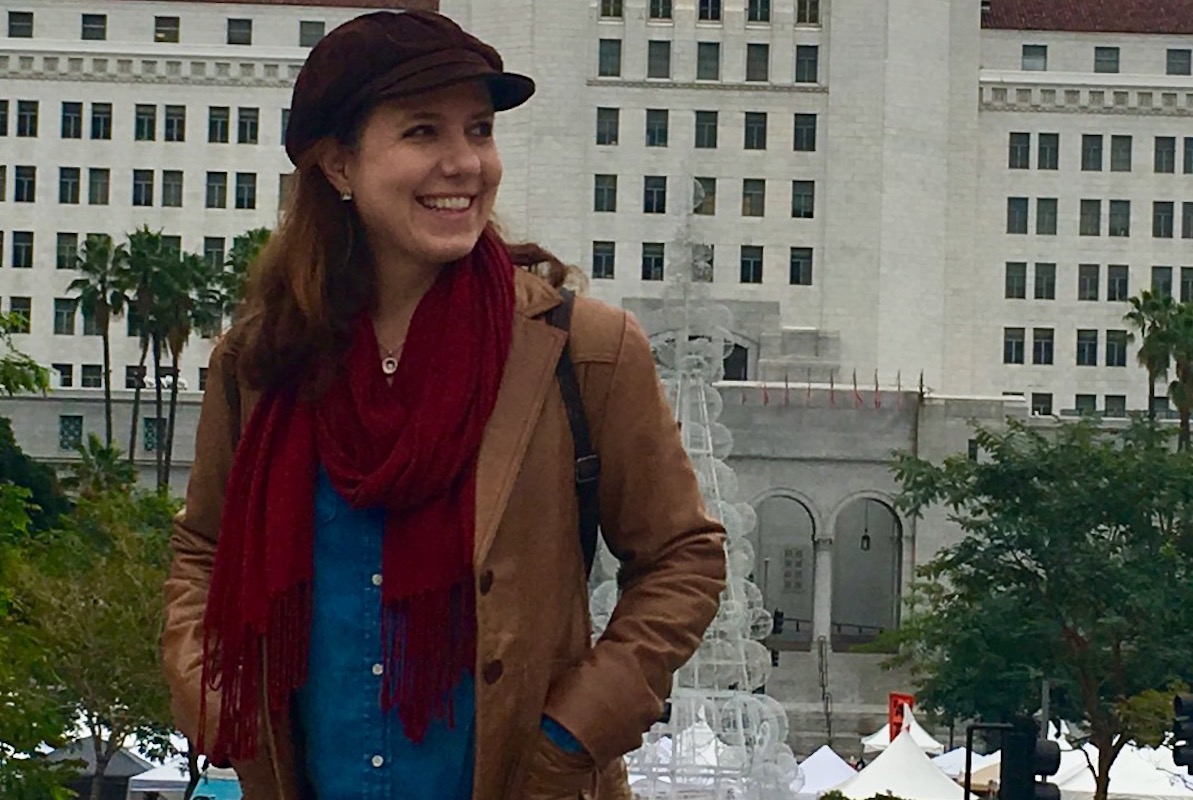 Jenny Slattery is the Associate Producer at Pasadena Playhouse. She previously Stage Managed a number of productions on Broadway, around Los Angeles and at the Playhouse. Here she talks through her journey from Actor to Stage Management to Associate Producer, and the role theater has played throughout her life & career.
Can you briefly tell us about your journey from Broadway to Playhouse?
I had a wonderful ten years living in New York and working as a stage manager on a number of very exciting Broadway shows, including Cry Baby, Spider-Man, Bullets Over Broadway, Guys and Dolls, Oleanna, Grease, and the Radio City Christmas Spectacular with the Rockettes, but by 2016 I was feeling a strong desire to become part of a more permanent theater community with a different sort of mission.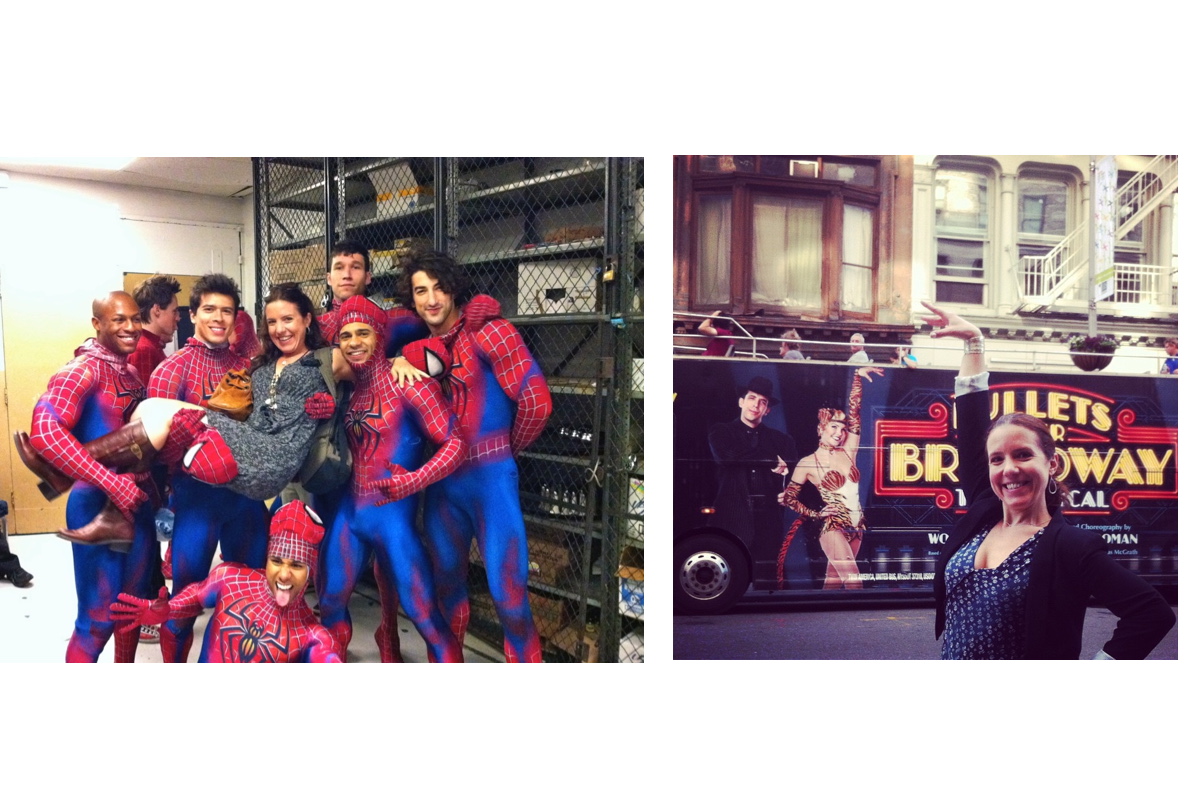 In 2016 I left New York and moved to Los Angeles to become the Head of Stage Management at the California Institute of the Arts. I ran the MFA and BFA stage management programs and continued my professional stage management career here on the West Coast. In 2017 I was the Production Stage Manager for Our Town at the Pasadena Playhouse. It was my first time working with the Playhouse, and I fell in love with the theater and the amazing community of artists and leaders who have made it their home. Over the next two years I worked on a number of productions, including Belleville, Bordertown Now,Tiny Beautiful Things, and Ragtime, among others.  
In 2019 I was offered the chance to join the Pasadena Playhouse family full-time, so I took the leap into this exciting new position.
Do you remember your first experience with theater (either seeing a show or being a part of a show)?
At my public middle school I took Band class. My best friend took Chorus. After the band performed in our 8th grade Holiday concert, I stayed to listen to her sing with the chorus. They performed a medley of songs from The Phantom of the Opera. I had never heard that show before, and I didn't actually know that much about Broadway musicals, but I thought that music was amazing. I immediately asked my mom to take me to a record store so that I could find a cassette tape of the cast album. I got a bit obsessed with that show, and started buying more and more cast albums and going out to see the musicals the community theaters were doing in town. I begged my mom to take me to New York to see a Broadway musical. I was relentless. To my shock, she took me to New York for my 8th grade graduation. Neither of us ever thought we'd even visit New York, and we saw our first Broadway show together. After that we went back every summer, bringing my younger sisters along. We saw as much as we could in one week, collected playbills, and waited at stage doors for autographs. I promised the world someday I would work on Broadway too. And that all started with a public middle school band/chorus concert. Arts in public schools matter. Very much.  
Prior to becoming Associate Producer, you were a Stage Manager and an educator. What drew you to this new role and how has your experience been? 
In many ways the transition to the Associate Producer position was a natural extension of the work I've done as both a Stage Manager and a teacher. The difference is that instead of overseeing individual shows I am overseeing production for an entire season.  work with the entire production department to develop a structure and system that work for this theater at this moment in time with these individuals on the team. And that's how it should always be. Isn't that what theatre asks us all to do all the time? To live in the present with a specific group of individuals all gathered together in one place? That's the most exciting part of the job that I have now- the expanded ability to help something good happen in the world.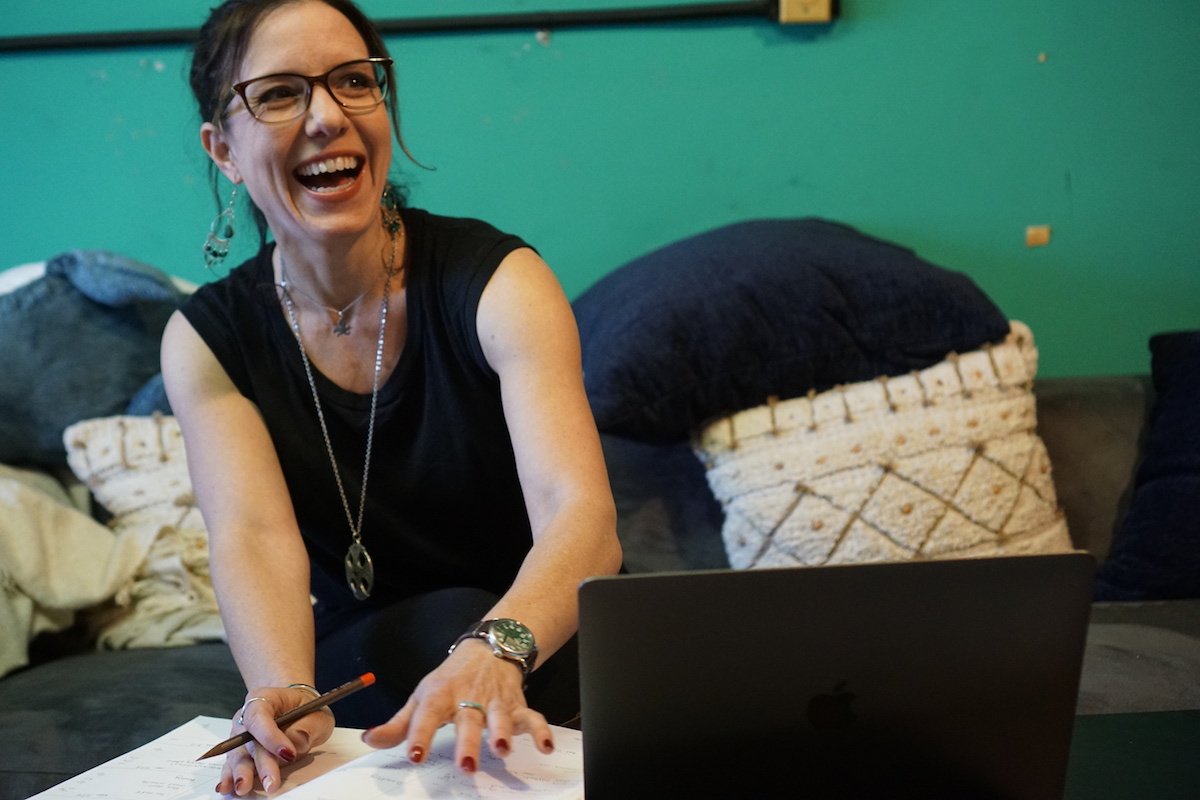 What's one common misconception about theater that you want to dispel?
That it's passive. No one gets to check out. Theater only really exists as an experience when you're present. This is true in the rehearsal room, and it's true in the audience. If an actor is just going through the motions in rehearsal then everyone's time is being wasted. If a stage manager is calling cues mechanically without really focusing on the stage, the show will look sloppy. If an audience member is daydreaming or putting up emotional walls, then they are missing the true payoff of theater. There is no passive spectatorship, there are no cheat days. Theater requires connection, and connection requires a little bit of bravery and really showing up. 
If you could say something to your 15-year old self, what would it be?
About that hair…. My 15-year old self already was obsessed with having a career in the arts, although at that age I wanted to be an actor and dancer. I was deeply involved in ballet, and was about to tear both of my anterior cruciate ligaments and watch some of my ballet dreams crumble. I was also entering a period of struggle with issues of body image and borderline eating disorders. If I could talk to that Jenny I would tell her to stay focused on the love, and fight back against the darkness. Don't worry about what you can't do or what has gone wrong. Focus on what you love and find as many ways as possible to fill your life with it. This sounds Hallmark-shallow, but I mean it more complexly. There is a difference between loving theater and loving acting, and it took me a little while to figure out which one really made me happy.  And why focus on hating the way a body looks if that means you are ignoring all the amazing things it can do? Sometimes we tell ourselves who we are or what we want at a very young age, then fight like crazy to get those things without noticing if they change. Love and happiness are nice things to focus on, so I think one of the easiest ways to help someone break out of the boxes they put themselves into is to ask them to focus on when they really feel good, and to let that be a guide. 
What do you love most about Regional Theater? What do you love about being behind the curtain? 
Theater has been so important in my life, and I believe deeply in its value in the world. Theater fosters important conversations about community, power, race, love, and loss. It requires presence and attention. It brings a specific group of people into a specific space for a specific moment in time and asks them to take an emotional journey together. Everyday most of us spend hours of time behind individual screens. We carry them in our pockets, hang them on our walls, use them in coffee shops, and manage most of our communication through them. Theater insists that presence and community still matter. I wanted to be part of helping bring all of that to the world.