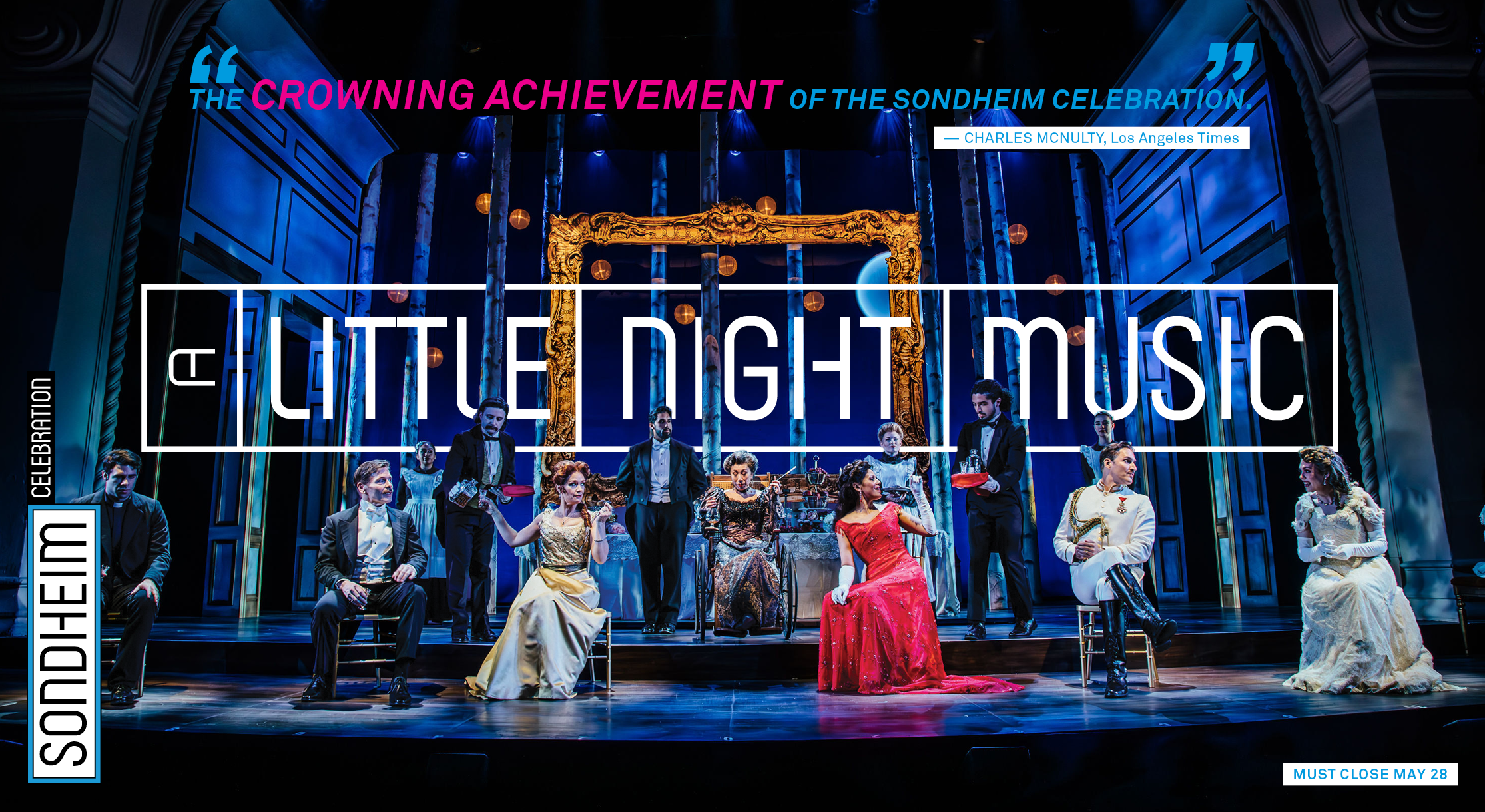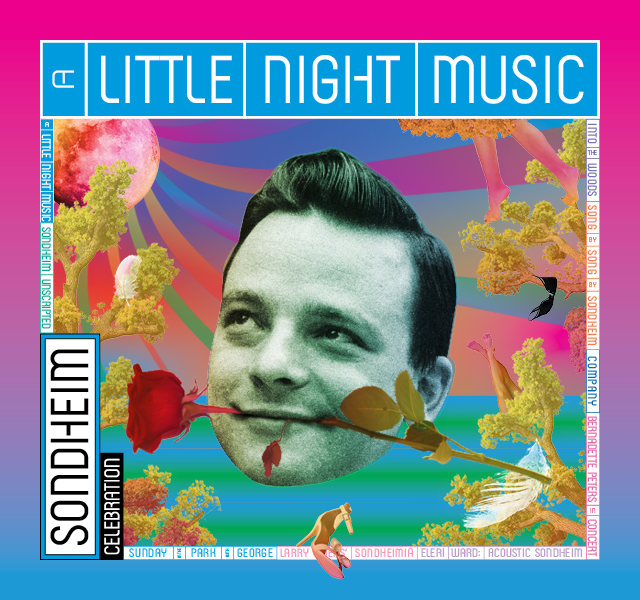 A Little Night Music |
April 25 — May 28
Desiree Armfeldt, a renowned actress, is growing weary of her life on the road. A chance encounter with an old flame sets in motion a series of romantic misadventures that culminate in a madcap weekend in the country where passions erupt, jealousies flare, and hilarity triumphs over all. Recipient of three Tony Awards including Best Musical, A Little Night Music is a sumptuous, sexy, laugh-out-loud masterpiece that will leave you thoroughly enchanted.
"The sublime Merle Dandridge is a musical theater dream come true in A Little Night Music"
Music and Lyrics by Stephen Sondheim
Book by Hugh Wheeler
Directed by David Lee
Orchestrations by Jonathan Tunick
Suggested by a Film by Ingmar Bergman
Originally Produced and Directed on Broadway by Harold Prince
2 hours 45 minutes
including one 15-minute intermission
Desiree Armfeldt, a renowned actress, is growing weary of her life on the road. A chance encounter with an old flame sets in motion a series of romantic misadventures that culminate in a madcap weekend in the country where passions erupt, jealousies flare, and hilarity triumphs over all. Recipient of three Tony Awards including Best Musical, A Little Night Music is a sumptuous, sexy, laugh-out-loud masterpiece that will leave you thoroughly enchanted.
"The sublime Merle Dandridge is a musical theater dream come true in A Little Night Music"

No matching events listed under A Little Night Music. Please try viewing the full calendar for a complete list of events.
| Sunday | Monday | Tuesday | Wednesday | Thursday | Friday | Saturday |
| --- | --- | --- | --- | --- | --- | --- |
| 28 | 29 | 30 | 31 | 1 | 2 | 3 |
| 4 | 5 | 6 | 7 | 8 | 9 | 10 |
| 11 | 12 | 13 | 14 | 15 | 16 | 17 |
| 18 | 19 | 20 | 21 | 22 | 23 | 24 |
| 25 | 26 | 27 | 28 | 29 | 30 | 1 |
+ Export Events
Cast

Creative Team

Stephen Sondheim (Music & Lyrics)
Read More
Stephen Sondheim wrote the music and lyrics for Saturday Night (1954), A Funny Thing Happened On The Way To The Forum (1962), Anyone Can Whistle (1964), Company (1970), Follies (1971), A Little Night Music (1973), The Frogs (1974), Pacific Overtures (1976), Sweeney Todd (1979), Merrily We Roll Along (1981), Sunday In The Park With George (1984), Into The Woods (1987), Assassins (1991), Passion (1994) and Road Show (2008) as well as lyrics for West Side Story (1957), Gypsy (1959) and Do I Hear A Waltz? (1965) and additional lyrics for Candide (1973). Anthologies of his work include Side By Side By Sondheim (1976), Marry Me A Little (1981), You're Gonna Love Tomorrow (1983), Putting It Together (1993/99) and Sondheim On Sondheim (2010). He composed the scores of the films Stavisky (1974) and Reds (1981) and songs for Dick Tracy (1990) and the television production Evening Primrose (1966). His collected lyrics with attendant essays have been published in two volumes: "Finishing the Hat" (2010) and "Look, I Made A Hat" (2011). In 2010 Broadway's Henry Miller's Theatre was renamed The Stephen Sondheim Theatre in his honour; in 2019, London's Queens Theatre was also renamed the Sondheim.
Hugh Wheeler (Book)
Read More
Hugh Wheeler was a novelist, playwright and screenwriter. He wrote more than thirty mystery novels under the pseudonyms Q. Patrick and Patrick Quentin, and four of his novels were transformed into films: Black Widow, Man in the Net, The Green-Eyed Monster and The Man with Two Wives. For films he wrote the screenplays for Travels with My Aunt, Something for Everyone, A Little Night Music and Nijinsky. His plays include Big Fish, Little Fish (1961), Look: We've Come Through (1961) and We Have Always Lived in the Castle (1966, adapted from the Shirley Jackson novel), he co-authored with Joseph Stein the book for a new production of the 1919 musical Irene (1973), wrote the books for A Little Night Music (1973), a new production of Candide (1973), Sweeney Todd, the Demon Barber of Fleet Street (1979, based on a version of the play by Christopher Bond), and Meet Me in St. Louis (adapted from the 1949 MGM musical), contributed additional material for the musical Pacific Overtures (1976), and wrote a new adaptation of the Kurt Weill opera Silverlake, which was directed by Harold Prince at the New York Opera. He received Tony and Drama Desk Awards for A Little Night Music, Candide and Sweeney Todd. Prior to his death in 1987 Mr. Wheeler was working on two new musicals, Bodo and Fu Manchu, and a new adaptation of The Merry Widow.
David Lee (Director)
Read More
David was born and raised in Claremont, California. He graduated from the University of Redlands with a degree in Theater and Music. In 1978 he began a long career writing, directing and producing television comedy. With writing partner Peter Casey he wrote and produced The Jeffersons (six years) and Cheers (four years). In 1989 they added a third partner, the late David Angell. The first series they created, Wings, ran for eight seasons on NBC. Their second, Frasier, ran eleven seasons and made television history by winning more Emmy awards than any other sitcom… ever. Besides directing many episodes of his own series, David has directed several pilots and was a repeating guest director for Everybody Loves Raymond. He has won many and various awards for his work in television including nine Emmys (nineteen nominations) for writing, directing and producing, a Golden Globe, the People's Choice (twice), the Directors Guild Award, the Television Critics Award (three times), the British Comedy Award, the Humanitas Prize (twice), and the prestigious Peabody Award. He is also an accomplished theater director, staging critically acclaimed revivals of Light Up the Sky, Do I Hear A Waltz?, 110 in the Shade, Diva, Can-Can (featuring a new book he co-authored; Ovation award: best director), his 8 person version of Camelot (now licensed by MTI), Art, the West Coast premiere of Casa Valentina, and Ragtime (Ovation Award; Best Director' Best Musical) at Pasadena Playhouse. He directed the world premiere of How I Fell In Love at the Williamstown Theater Festival, Present Laughter and Camelot at the 2 River Theater in New Jersey, and On the Twentieth Century, Assassins, Company, A New Brain, Applause!, Working, Elegies, Two By Two, A Funny Thing Happened on the Way to the Forum, Gigi and Zorba (Ovation nomination; best director) for Reprise! In 2007 he directed the acclaimed production of South Pacific at the Hollywood Bowl starring Reba McEntire and Brian Stokes Mitchell. In 2014 he again directed his Can-Can at the Papermill Playhouse in its pre-Broad-way tryout. Shortly after he directed Wonderful Town for LA Opera and Dear World starring Tyne Daly at the Soraya Theater.
Mark Esposito (Choreographer)
Read More
Mark is thrilled to return to Pasadena Playhouse where he choreographed the multi-award-winning musical Ragtime as well as Camelot and Casa Valentina with director David Lee. His work also has been seen at The Hollywood Bowl (South Pacific with Reba McEntire), Reprise Theatre Company, La Mirada Theater, Musical Theater West, Sacramento Music Circus, Coachella Valley Repertory, Torrance Theatre Company, Universal Studios, Pittsburgh Civic Light Opera, Pittsburgh Playhouse, Music Theater of Wichita, Two River Theater, North Shore Music Theatre, Bass Performance Hall, Casa Mañana Theatre, Blowing Rock Stage Company, Ogunquit Playhouse, Lexington Theatre Company, Novosibirsk Globus Theatre in Russia, The York Theatre Company, and Signature Theater. Mark has served as Associate Director and Choreographer for The Radio City Music Hall Christmas Spectacular and as choreographer for several productions of Yuletide Celebration with the Indianapolis Symphony Orchestra. Mark has been seen in over 16 Broadway productions and National Tours and has taught at major universities across the country from UCLA and The University of Michigan to New York University, to mention a few.
Darryl Archibald (Music Supervision)
Read More
Broadway: Some Like It Hot, Motown the Musical. Tours: Memphis, The Color Purple. Television: Encore! (Disney+), A Hollywood Holiday Christmas. Regional: Bob Fosse's Dancin' (pre Broadway run – The Old Globe); Wicked (substitute conductor at the Hollywood Pantages Theatre); Little Shop of Horrors with M.J. Rodriguez (Pasadena Playhouse); Dear World with Tyne Daley; Two by Two with Jason Alexander; Jonathan Dove's Innocence (Banff Centre). Full bio at darrylarchibald.com.
Alby Potts (Music Direction)
Read More
Alby is delighted to return to Pasadena Playhouse, where he conducted Sunday In The Park With George. Alby has music directed many Los Angeles area productions including Singin' In The Rain (Ovation Award winner) and Miss Saigon (Ovation nomination). Chicago music directing credits include: Into The Woods and Brigadoon (Joseph Jefferson Award nominations). Alby is currently music director of the Pageant Of The Masters in Laguna Beach. Alby has a Bachelor of Music degree from Boston Conservatory of Music and a Masters from Northwestern University.
Wilson Chin (Scenic Design)
Read More
Broadway: Cost of Living, Pass Over (Drama Desk, Lortel and Henry Hewes Design Award nominations), Next Fall. National Tour: Annie. Off-Broadway: A Bright New Boise (Signature Theatre), The Thanksgiving Play (Playwrights Horizons), Space Dogs (MCC, Lortel Award nomination), Teenage Dick (Ma-Yi Theater Company/The Public Theater), Sakina's Restaurant (Audible), The Bandaged Place (Roundabout Underground). Opera: Turandot (Washington National Opera), Lucia di Lammermoor (Lyric Opera of Chicago), Eine Florentinische Tragödie and Gianni Schicchi (Canadian Opera Company, Dora Award winner). Film/Television: Pass Over (directed by Spike Lee), Game Theory with Bomani Jones (HBO), Blindspot (NBC). Eastern Region Board member of Local USA 829. Instagram: @wilsonchindesign.
Kate Bergh (Costume Design)
Read More
Kate is happy to be back at Pasadena Playhouse where she designed Ragtime (Ovation Nomination), Casa Valentina (LADCC Award, Ovation Nomination), It's a Wonderful Life, Miracle on 34th Street, Art, and Sleepless in Seattle. Geffen Playhouse – Next Fall, Yes, Prime Minister; The Laguna Playhouse – Barefoot in the Park, The Graduate, Harvey; The Industry – Hopscotch, The Mobile Opera. She has worked at 59E59 Theaters, The Delaware Theatre Company, Rogue Machine Theatre, Ensemble Theatre Company in Santa Barbara, Boston Court Pasadena. Kate is a proud member of United Scenic Artists Local 829.
Jared A. Sayeg (Lighting Design)
Read More
A recipient of the Ovation and LADCC Kinetic Lighting Award; his designs for theater, opera, musicals, ballet, themed attractions, exhibits, and architectural installations have been seen throughout the world. Jared designed The Illusionists on Broadway and National Tours. Regionally, he's designed for Center Theatre Group, South Coast Repertory, McCoy Rigby Entertainment, International City Theatre, Pasadena Playhouse, 5-Star Theatricals, Phoenix Theatre Company, Reprise Theatre Company, Ensemble Theatre Company, Laguna Playhouse, Virginia Stage Company, 5th Avenue Theatre. Notable projects include four seasons lighting for LA Opera, lighting for Pope Benedict XVI in NYC, and the USA International Ballet Competitions. Jared became the youngest member of the United Scenic Artist-Local 829 and serves as Vice Chair to the executive board. www.jaslighting.com
Danny Erdberg (Sound Design)
Read More
Pasadena Playhouse: Sunday in the Park with George and Head over Heels. New York: The Public Theater, New York City Opera, 92Y, Roundabout Theatre Company, City Center, Atlantic Theater Company, and 59E59 Theaters. Regional: Arena Stage, Arizona Theater Company, Geva Theatre Center, Milwaukee Repertory Theater, Geffen Playhouse, ACT Theatre, Merrimack Repertory Theatre, Saratoga Opera, Virginia Stage, and Long Wharf, as well as productions in Korea, Japan, China, Canada, and Cuba. Broadway Associate: The Iceman Cometh (Tony Nom), Significant Other, Violet, The Glass Menagerie, A Streetcar Named Desire, The Heiress, and The Nance (Tony Win). Danny is a member of IATSE, USA829, SDC and the Lincoln Center Director's Lab. Graduate of Northwestern University.
Ursula Kwong-Brown (Sound Design)
Read More
Ursula is excited to return to Pasadena Playhouse for more Sondheim! Previous designs include Sunday in the Park with George and Head Over Heels at the Playhouse, Holiday at Arena Stage, King Lear at the Wallis Annenberg, The Wickhams at Arizona Theatre Company, Native Gardens at Merrimack, and the world premiere of Stonewall with NYC Opera. As a composer, her work has been performed at Carnegie Hall, Miller Theatre, Le Poisson Rouge, the Victoria & Albert Museum and the National Portrait Gallery in London, as well as by festivals and ensembles across the country and around the world. Ursula received her Ph.D. from UC Berkeley and her B.A. from Columbia University. More info at www.ursulakwongbrown.com
Christopher Enlow (Wig Design)
Read More
Christopher is an MUAHS Guild Award winning hairstylist with Local's 706 and 798, known for his work in film, tv and live theatrical. Before returning to Los Angeles in 2020, Christopher was predominantly working on Broadway productions in New York. He worked with incredible Broadway designers such as David Brian Brown, Charles Lapointe, and Josh Marquette to name a few. With 14 Broadway credits and many more in film/TV, Christopher happily returns to Pasadena Playhouse after most recently designing the hair/wigs for this season's Sunday In The Park With George. Broadway Credits: Mamma Mia, Beautiful: The Carole King Musical, Kinky Boots, The Lion King, Gigi, On Your Feet, War Paint, Summer: The Donna Summer Musical, Waitress, Anastasia, The Prom, The Inheritance, and Diana: The Musical.
Amanda Rose Villarreal (Intimacy Coordinator)
Read More
Amanda Rose Villarreal is an intimacy choreographer and immersive artist. They earned their MA with an emphasis in Directing from Central Washington University and their PhD in Theatre and Performance Studies from the University of Colorado Boulder. Amanda Rose recently choreographed intimacy for Pasadena Playhouse's productions of Uncle Vanya and Sanctuary City, and is honored to be supporting A Little Night Music. They also choreographed The Inheritance at Geffen Playhouse and created consent mechanics for playable performances, immersive productions, and larps at Sinking Ship Creations in New York and Moonrise Larp in Chicago.
Jill Gold (Stage Manager)
Read More
Jill is thrilled to stage manage her 40th Playhouse production, and to be collaborating again with David Lee. Favorite Playhouse credits include 110 in the Shade, Do I Hear A Waltz?, Ragtime, Little Shop of Horrors, and four years of Plaid Tidings. Jill has stage managed for 38 years around Los Angeles (Geffen Playhouse, Hollywood Bowl, McCoy Rigby Entertainment, Mark Taper Forum, etc) as well as on the road (national tours of Wicked, Les Misérables, City of Angels, and The Unsinkable Molly Brown among others). She teaches at Occidental College and UCLA, guest lectures throughout the country, and is the co-author of Stage Management by Lawrence Stern and Jill Gold.
Dylan Elhai (Assistant Stage Manager)
Read More
Dylan is happy to be back for her third show at Pasadena Playhouse. Previous Pasadena Playhouse credits include Head Over Heels and Little Shop Of Horrors. Dylan's past credits as a stage manager include Deaf West Theatre's Oedipus at The Getty Villa, McCoy Rigby Entertainment's The Sound of Music, Clue, the international tour of Peter Pan, LA Museum of Tolerance's Anne, and more. Dylan would like to thank Jill Gold and Jenny Slattery for bringing her back to the Playhouse.
JZ Casting (Casting)
Read More
Geoff Josselson, CSA and Katja Zarolinski, CSA are New York-based casting directors, handling productions for theater, film, and television. Theater work includes Broadway, off-Broadway and regional productions at Alley Theatre, Arena Stage, Baltimore Center Stage, Cape Playhouse, Denver Center, The Irish Repertory Theatre, Kansas City Repertory Theatre, Kennedy Center, Oregon Shakespeare Festival, Paper Mill Playhouse, Pasadena Playhouse, Pittsburgh Civic Light Opera, Pittsburgh Public Theatre, Repertory Theatre of St. Louis, Seattle Repertory Theatre, Signature Theatre, South Coast Repertory, Studio Theatre, Theaterworks Hartford, and Woolly Mammoth Theatre. For more information, please visit www.jz-casting.com.
Music Theatre International
Read More
Music Theatre International (MTI) is one of the world's leading theatrical licensing agencies, granting theaters from around the world the rights to perform the greatest selection of musicals from Broadway and beyond. Founded in 1952 by composer Frank Loesser and orchestrator Don Walker, MTI is a driving force in advancing musical theater as a vibrant and engaging art form. MTI works directly with the composers, lyricists and book writers of these musicals to provide official scripts, musical materials and dynamic theatrical resources to over 100,000 professional, community and school theaters in the US and in over 150 countries worldwide. MTI is particularly dedicated to educational theater, and has created special collections to meet the needs of various types of performers and audiences. MTI's Broadway Junior™ shows are 30- and 60-minute musicals for performance by elementary and middle school-aged performers, while MTI's School Editions are musicals annotated for performance by high school students.
Special Performances

Open Captioning
Guests who enjoy open captioning may request to be seated in view of a video screen with text descriptions synchronized to the onstage action designed for people who are deaf or hard of hearing.
The Open Captioned performance of A Little Night Music will be on Sunday, May 14, 2023 at 2:00 PM.
Wine Wednesday
Preview week Wednesday, ticket holders are invited to come early and enjoy complimentary wine prior to the show at Pasadena Playhouse.
The Wine Wednesday performance of A Little Night Music will be on Wednesday, April 26 at 8:00 PM.
Ticket Info

Rush Tickets
A limited number of rush tickets for all productions are available exclusively through our ticketing partner, TodayTix.