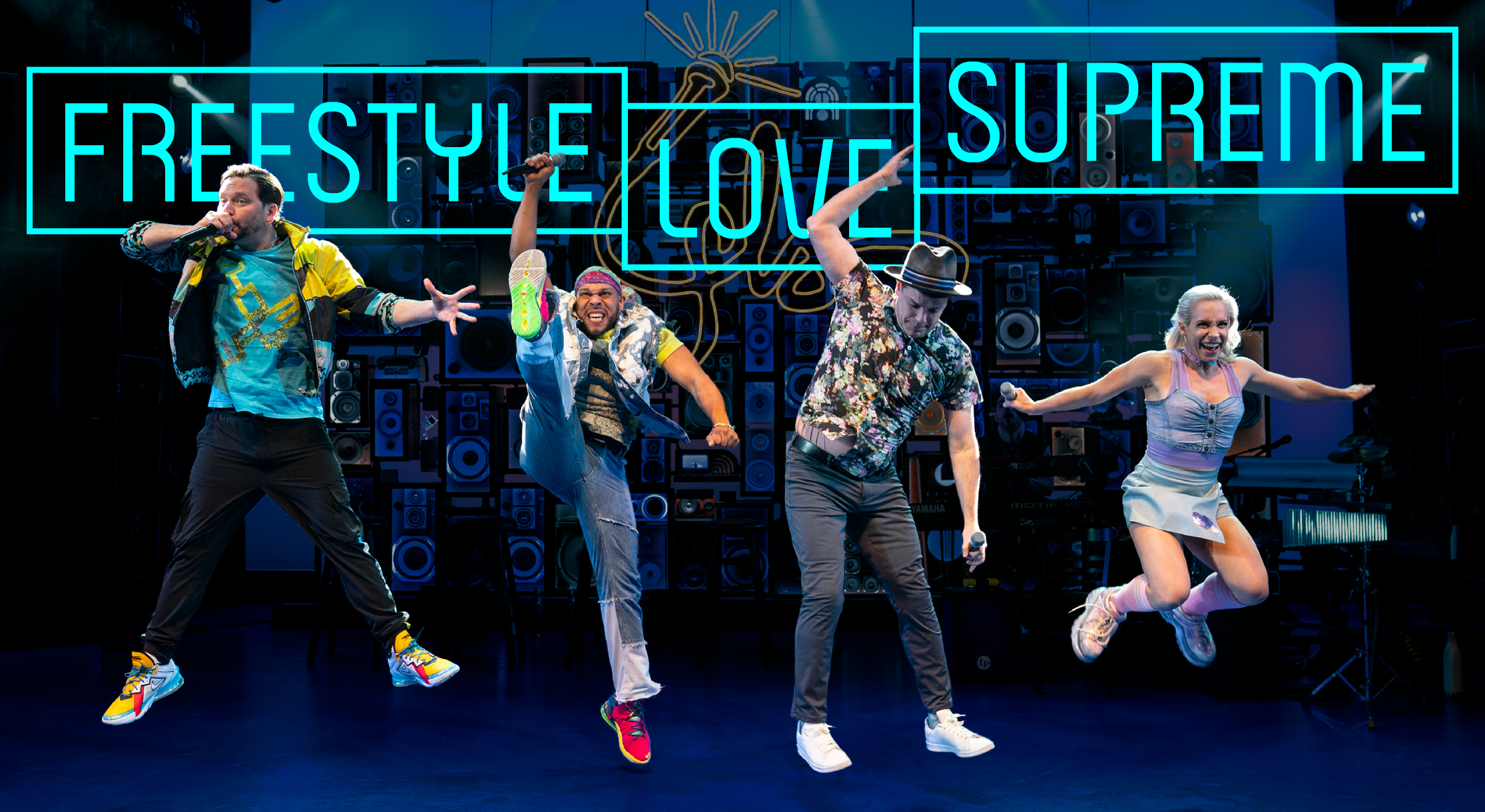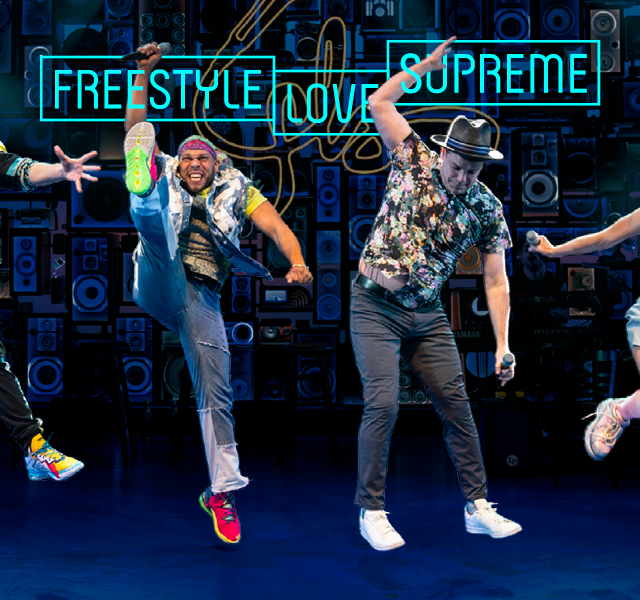 freestyle love supreme |
July 12 — August 7
Before Hamilton, before In the Heights, there was Freestyle Love Supreme, a 2020 Special Tony Award Recipient. Now – direct from Broadway – the hip-hop musical phenomenon from Thomas Kail, Lin-Manuel Miranda, and Anthony Veneziale arrives at Pasadena Playhouse! Using cues from the audience, the cast takes you on a hip-hop comedy ride where no two performances are the same.  "Just as you were thinking that life has no rhyme nor reason, along comes Freestyle Love Supreme to pump you full of hope." – The New York Times
Feel the rhythm. Feel the love.
"A delightfully wit-laced evening of comedy rap for a wide range of ages."
Conceived by Anthony Veneziale
Created by Thomas Kail, Lin-Manuel Miranda, and Anthony Veneziale
Directed by Thomas Kail
Produced by Thomas Kail, Lin-Manuel Miranda, Jenny and Jon Steingart, and Jill Furman
90 minutes
No intermission
Before Hamilton, before In the Heights, there was Freestyle Love Supreme, a 2020 Special Tony Award Recipient. Now – direct from Broadway – the hip-hop musical phenomenon from Thomas Kail, Lin-Manuel Miranda, and Anthony Veneziale arrives at Pasadena Playhouse! Using cues from the audience, the cast takes you on a hip-hop comedy ride where no two performances are the same.  "Just as you were thinking that life has no rhyme nor reason, along comes Freestyle Love Supreme to pump you full of hope." – The New York Times
Feel the rhythm. Feel the love.
"A delightfully wit-laced evening of comedy rap for a wide range of ages."

No matching events listed under frestyle love supreme. Please try viewing the full calendar for a complete list of events.
Calendar Month Navigation
| Sunday | Monday | Tuesday | Wednesday | Thursday | Friday | Saturday |
| --- | --- | --- | --- | --- | --- | --- |
| 26 | 27 | 28 | 29 | 30 | 1 | 2 |
| 3 | 4 | 5 | 6 | 7 | 8 | 9 |
| 10 | 11 | 12 | 13 | 14 | 15 | 16 |
| 17 | 18 | 19 | 20 | 21 | 22 | 23 |
| 24 | 25 | 26 | 27 | 28 | 29 | 30 |
| 31 | 1 | 2 | 3 | 4 | 5 | 6 |
+ Export Events
Cast

Creative Team

Thomas Kail (Co-Founder, Director, Producer)
Read More
Broadway directing credits include Hamilton, In the Heights, Lombardi, and Magic/Bird. Other directing credits include the world premiere of Hamilton, Dry Powder, Tiny Beautiful Things, and Kings at The Public Theater; The Wrong Man at MCC Theater; the world premiere of In the Heights; Broke-ology and the world premiere of When I Come to Die at Lincoln Center Theater; and the world premiere of Daphne's Dive at Signature Theatre. Television directing and producing credits include Grease Live! on Fox and Fosse/Verdon on FX. He is a recipient of a Kennedy Center Honor and is a graduate of Wesleyan University.
Lin-Manuel Miranda (Co-Founder/Producer)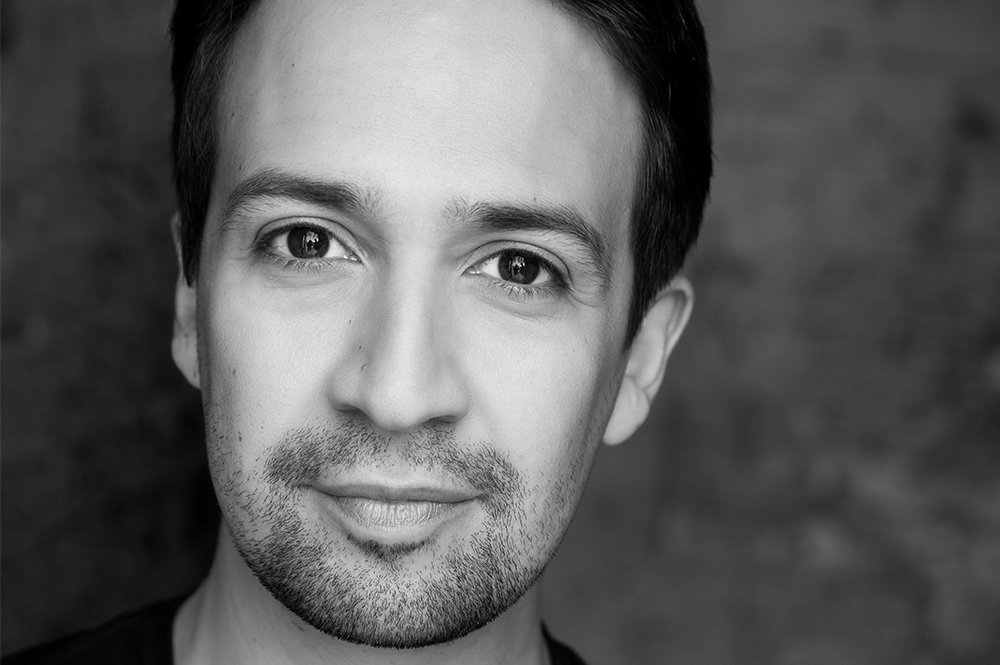 Read More
Pulitzer Prize-, Grammy-, Emmy-, and Tony Award®-winning songwriter, actor, and director. Creator and original star of Broadway's Tony-winning Hamilton and In the Heights. Additional Broadway: freestyle love supreme, Bring It On: The Musical (co-composer/co-lyricist, Tony nomination for Best Musical) and West Side Story (2009 revival, Spanish translations). Recipient of the 2015 MacArthur Foundation Award, the 2018 Kennedy Center Honors, and the 2019 Portrait of a Nation Prize. Emmy Award winner with Tom Kitt for their song "Bigger" from the 67th Annual Tony Awards. Mr. Miranda, and the Miranda family, actively support initiatives that increase BIPOC representation in the arts and government, ensure access to women's reproductive health, and foster resilience in Puerto Rico. TV/film: In the Heights, Hamilton (2021 Golden Globe nomination, Best Actor), His Dark Materials, Fosse/Verdon, Curb Your Enthusiasm (2018 Emmy nomination), Saturday Night Live  (2017 Emmy nomination), Sesame Street, The Electric Company, House, Duck Tales, 200 Cartas, The Odd Life of Timothy Green, Moana (Grammy Award for Best Original Song), and Mary Poppins Returns (2019 Golden Globe nomination, Best Actor).
Anthony Veneziale (Co-Founder/Two-Touch)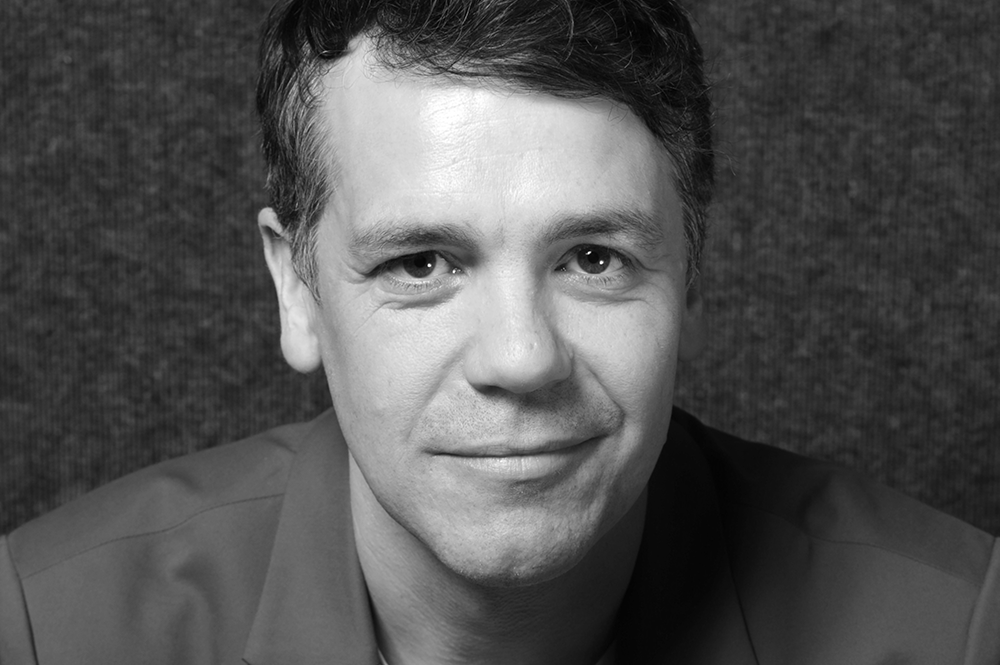 Read More
Conceiver and co-creator of the Grammy-nominated freestyle love supreme and FLS Academy. Founding member of American Immigrants (San Francisco). He has used improv techniques to create endeavors with Thomas Kail & Lin-Manuel Miranda (In the Heights, Bartlett, The Electric Company), Daveed Diggs (The Freeze), numerous networks & companies (HBO, Cartoon Network, Sesame Workshop, Boardwalk Pictures, Google) and co-founded speechlessinc.com, an improv thinking company that helps humans create, collaborate and find their authentic voices. Stage: freestyle love supreme, Servicemen, The Subject Tonight Is Love. TV: Looking, Kid of the Year, freestyle love supreme.
Safety Advisory

Last Updated: May 2022
At this time, the following safety plan is in place at the theater:
– All patrons will be required to show proof of full vaccination at least 14 days after their final dose and a valid photo ID at the theater in order to attend a performance. Proof of vaccination will include a physical vaccination card, a picture of vaccination card, or a digital vaccination record.
– All patrons will be required to wear a mask fully covering their nose and mouth at all times while in the theater.
– Children 6+ will also be required to be fully vaccinated and provide proof of vaccination at the theater. Children under the age of 6 will not be admitted. While fully vaccinated children 6+ are welcome at the theater, we recommend contacting Patron Services for content advisories as some productions may not be suitable for young audiences.
– Guests who need a reasonable accommodation due to medical reasons or a sincerely held religious belief must provide proof of a negative COVID-19 PCR test taken within 72 hours prior to entering the theater or an antigen test performed by a medical provider taken no more than 24 hours prior to attending the performance along with government or education issued Photo ID. All tests must be administered by a medical professional. At-home tests will not be accepted.
Pasadena Playhouse will continue to address these guidelines as we approach performances.
FAQs

WHAT IS FREESTYLE LOVE SUPREME?
FLS is a freestyle (hence the name), improvisational, hip-hop comedy show. Every night the performers take suggestions from the audience and spin them into instantaneous riffs and full-length musical numbers. Every night is different: no two shows are the same. We won't know what to rap about until you tell us!
IS LIN-MANUEL MIRANDA IN THE CAST?
Part of what makes Freestyle Love Supreme so unique is its unpredictability. Every show is different in material — and in who appears onstage. Lin-Manuel is a founder, producer, and friend of the show, and at any given performance, he may or may not be part of the cast. Other special guests might include Christopher Jackson, Daveed Diggs, Wayne Brady, Sarah Kay, Bill Irwin, Josh Groban, James Monroe Iglehart, Utkarsh Ambudkar, Alex Lacamoire and many more.
WILL SPECIAL GUEST PERFORMANCES BE ANNOUNCED AHEAD OF TIME?
No — we may not even know beforehand. Nothing is guaranteed. Every night brings the unexpected, and it's always a great show.
Ticket Options

Membership
With our newly revamped Membership Program built around flexibility and options, Members get early access to book their seats.