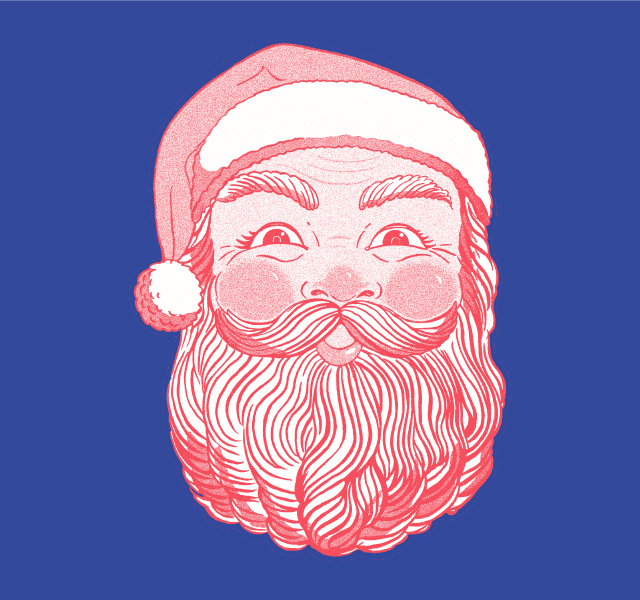 Miracle On 34th Street |
December 14 — December 23
When a department store Santa claims he's the real thing, it takes him all the way to the supreme court. Watch what happens as this classic story finds new life on stage in a live performance of the original 1940s radio broadcast, complete with a live foley artist and a twinkle of holiday cheer.
Written by Valentine Davies
Based off the Lux Radio Theatre Broadcast
Directed by Cameron Watson
Tickets: $25+
85 minutes
No Intermission
Members receive 20% off tickets.
Tickets start at $25.

No matching events listed under Miracle On 34th Street. Please try viewing the full calendar for a complete list of events.
Calendar Month Navigation
| Sunday | Monday | Tuesday | Wednesday | Thursday | Friday | Saturday |
| --- | --- | --- | --- | --- | --- | --- |
| 26 | 27 | 28 | 29 | 30 | 1 | 2 |
| 3 | 4 | 5 | 6 | 7 | 8 | 9 |
| 10 | 11 | 12 | 13 | 14 | 15 | 16 |
| 17 | 18 | 19 | 20 | 21 | 22 | 23 |
| 24 | 25 | 26 | 27 | 28 | 29 | 30 |
| 31 | 1 | 2 | 3 | 4 | 5 | 6 |
+ Export Events
Ticket Options

Tickets
Select a date in the calendar or call our box office at 626 356 7529 to purchase tickets.
Playhouse members receive 20% off tickets to Miracle On 34th Street. 
Full price tickets start at $25.
Cast

Alfred Molina (Kris Kringle)
Read More

Three-time Tony nominee Alfred Molina has been acting professionally for more than 40 years and is delighted to be returning to the Pasadena Playhouse's stage. Theater credits include seasons with the Royal Shakespeare Company, The Royal National Theatre, London's West End and Broadway. Recent theater includes And No More Shall We Part (Williamstown Theatre Festival with Jane Kaczmarek); Red (London, Broadway, Los Angeles); Art (Broadway, Los Angeles); Fiddler on the Roof (Broadway); Howard Katz, Molly Sweeny (New York); Long Day's Journey into Night, The Cherry Orchard and Richard III (Los Angeles). Recent films include Spiderman II, Enchanted April, Frida, An Education, Chocolat, Love Is Strange, Secrets In Their Eyes, Breakable You, Headhunter's Calling, Message From The King, Whiskey Tango Foxtrot, and the upcoming The Front Runner, directed by Jason Reitman. Recent television includes: Show Me A Hero (HBO), Monday Mornings (TNT), Law & Order (NBC) and Feud (FX). 


Peri Gilpin (Doris Walker)
Read More
 Best known for her role as Roz Doyle on NBC's Emmy-winning FRAISER. Most Recent: Comedy Central's Broad City and CBS's Scorpion. Peri starred alongside Craig Robinson and Amandla Stenberg in Mr. Robinson. TV: Masters of Sex, Men At Work, Make It Or Break It, CSI, Modern Family, Law & Order, Hot In Cleveland, and Desperate Housewives. Film: How To Kill Your Neighbor's Dog, Spring Forward, Benjamin, Only Humans, and The Outdoorsman. Theatre: As Bees in Honey Drown (Off-Broadway, Lucille Lortell & Pasadena Playhouse), Matthew Modine Saves The Alpacas (Geffen), and five summers with the Williamstown Theatre in Massachusetts. Education: Dallas Theater Center, University of Texas in Austin, and British-American Academy in London. 
Yvette Cason (Singer & Others)
Read More
Yvette recently played the roles of Katie Bell and Mahalia Jackson in Shout Sister Shout at Pasadena Playhouse, which has earned her an Ovation nomination. In addition, Yvette portrayed Lillie Ann in Barbecue at the Geffen Playhouse (NAACP Theatre Nomination). Other credits include: A Night With Janis Joplin, Ella The Musical, Dreamgirls, Play On! (Ovation Award), Once On This Island, Ain't Misbehavin', St. Louis Woman, Into The Woods and Sisterella (NAACP Theatre Award). Film: A Wrinkle In Time, Dreamgirls, and Middle of Nowhere. She has toured with Whitney Houston, Stevie Wonder, David Foster and Babyface. Education: Berklee College of Music.
Michael Cheiffo (Host & Others)
Read More
 A native New Yorker, Chieffo studied acting at The Juilliard School. In L.A.: With schoolmate Christopher Reeve in Summer And Smoke (The Ahmanson); Dr. Bob in Bill W and Dr. Bob (Theatre 68). Selected lm/TV: Battle of the Sexes, Live By Night, Argo, Beginners and L.A. Confidential; Better Call Saul, Criminal Minds, CSI, Bones, Mad Men, Closer, Roswell, The X-Files. Critically acclaimed as the great Art Carney in Gleason opposite Brad Garrett (CBS MOW). Also a favorite, playing Dave Madden/Reuben Kincaid in Come on Get Happy, The Partridge Family Story (ABC MOW).
Jeff Gardner (Foley Artist & Others)
Read More
 Jeff is excited to be making his Pasadena Playhouse debut. Jeff has designed and performed through- out the country including The Shakespeare Theatre, DC, The Studio Theatre, DC, Kirk Douglas Theatre, A Noise Within, The Colony Theatre, Circle X Theatre, Echo Theater, Rogue Machine Theatre, Sacred Fools, Skylight Theatre, IAMA Theatre, Odyssey Theatre, The Kennedy Center, Williamstown Theatre Festival and is a member of The Antaeus Company in Glendale. Jeff can also be seen at L.A. Theatre Works where he regularly performs live sound effects and is the resident sound designer for the Westridge School in Pasadena. Online: jeffthomasgardner.net
Beth Grant (Charlene & Others)
Read More
Picnic, Summer And Smoke (The Ahmanson); Grace And Glorie (Directed by Cameron Watson at The Colony). World premieres: Del Shores's Trials And Tribulations Of A Trailer Trash Housewife, Sordid Lives; Maya Angelou's On A Southern Journey, Romulus Linney's Holy Ghosts, Horton Foote's The Day Emily Married, Tricks The Devil Taught Me. Awards: Three Ovations, Drama Critics Circle, SAG Ensemble: Little Miss Sunshine, No Country for Old Men. Three Academy Best Pictures: Rain Man, No Country, The Artist. Film & TV favorites: Donnie Darko, Watson's Our Very Own, Beverly on The Mindy Project (6 seasons), Friends, Malcom In The Middle, Wonderfalls, Pushing Daisies, One Mississippi, and American Gods.
Ryan Johnson (Piano Player & Others)
Read More
Composer and musician Ryan Thomas Johnson won an Ovation Award for his work on Stoneface, last seen here at the Pasadena Playhouse. Recently, he acted as music director for Mr. Burns: A Post- Electric Play at Sacred Fools Theater. In 2016, his choral setting of the Wessobrunner Gebet was performed by the Munich Orpheus Choir. As a rock musician, he has played with artists as diverse as Sia Furler, Joseph Gordon-Levitt, and Kid Koala, as well as the bands Uberband, Ren eld, and Batlord. He is currently playing with space rockers Earth Moon Earth and writing chamber music.
Larry Poindexter

 (Fred Gailey)
Read More
Larry is a founding member of The Troubies, where he's performed in Fleetwood Macbeth, The Comedy of Aerosmith and Much A Doobie Brothers About Nothing. Among others, he's starred as Jack/Jesus in Reefer Madness (Ovation Award) and Shannon
in The Night of The Iguana. He wrote and starred in The Devil You Know, a rhythm & blues story – which has been Ovation Nominated for Original Book for a Musical. He's done 100's of hours of TV and count- less movies – most recently in Outcast and Ten Days In The Valley. Carol, Jake & Rees make everything possible.
Jim Rash (Mr. Sawyer & Others)
Read More
Jim hails from Charlotte, North Carolina where he attended UNC-Chapel Hill. He spent six years as Dean Pelton on NBC's Community. Along with his writing partner, Nat Faxon, and director Alexander Payne, Jim received an Academy Award for Best Adapted Screenplay for the film The Descendants. He and Nat also wrote and directed the film The Way, Way Back. He currently voices Marquess on Mike Tyson Mysteries and Gyro Gearloose on DuckTales.
Cecilia Witt (Susan Walker)
Read More
Cecilia is over the moon delighted to be making her Pasadena Playhouse stage debut, though she has grown up in its green room and spent count- less hours running around backstage. Credits include national spots for Hallmark, Walgreens, and numerous print campaigns. She is crazy about stuffed animals, American Girl dolls, Beanie Boos, mermaids, fairies, unicorns, loves to draw and play soccer, and has memorized every song in Hamilton. She would particularly like to thank her Mom, Dad, and big brother Zac for all their support.
Creative Team

Valentine Davies (Writer)
Read More
Writer, director, and producer. Davies served as vice president and member of the board of directors for the Motion Picture Relief Fund and as president and member of the board of directors for the Permanent Charities Committee of the Motion Picture Industry. Served as president of the Screen Writers Guild. Awards & Honors: Academy Award for Best Writing of An Original Story (1947, Miracle on 34th Street), Academy Award Nomination for Best Writing of A Motion Picture (1949, It Happens Every Spring, Academy Award Nominations for Best Writing of An Original Story and Best Screenplay (1954, The Glenn Miller Story), Academy Award Nomination for Best Documentary Short Subject (1956, The House Without A Name). He died on July 23, 1961 in Malibu, California.
Cameron Watson (Director)
Read More
Cameron recently directed the world premieres of Sharr White's Stupid Kid at The Road Theatre, Bled for the Household Truth at Rogue Machine and the critically-acclaimed revival of Cat on a Hot Tin Roof at Antaeus, where he also directed Picnic and Top Girls. Other credits include The Super Variety Match Bonus Round and Cock (Rogue Machine), Dream Catcher (Fountain Theatre), All My Sons (The Matrix), Trying, Grace & Glorie and The Savannah Disputation (The Colony), I Never Sang for My Father (New American Theatre), I Capture the Castle (Shakespeare Theatre of New Jersey) and Rolling with Laughter in London's West End. Cameron wrote and directed the Miramax feature film Our Very Own, starring Allison Janney in an Independent Spirit Award-nominated performance. He created the new comedy series Break A Hip, starring Christina Pickles, now available online at breakahip.com
Kate Bergh (Costume Designer)
Read More
Recent credits: Chasing Mem'ries, Yes, Prime Minister, Next Fall (Geffen Playhouse); Casa Valentina (Ovation Nomination, LADCC Award) Amahl and the Night Visitors, Art, Sleepless in Seattle (Pasadena Playhouse); Stupid Kid (The Road Theatre); Hopscotch, the Mobile Opera (The Industry with Ann Closs-Farley) Twelve Angry Men, The Roger Miller Story, Six Dance Lessons… (Laguna Playhouse); Tribes (Chance Theatre); Bred to the Household Truth, Daytona, Super Variety Match Bonus Round, Cock (Rogue Machine); For Piano and Harpo (Falcon Theatre); Gigi, Cabaret (Backstage Garland Award), (Reprise Theatre); Prisoner of Second Avenue (El Portal Theatre); Side Show, Shrek the Musical (3D Theatricals – Ovation Nomination); The House in Scarsdale, Creation (Theatre at Boston Court).
Alexander Le Vaillant Freer (Lighting Designer)
Read More
A Los Angeles based lighting designer, Alexander's work tends to be multi-faceted and includes traditional theater, immersive and installation- based work, and architectural. He holds an MFA in Lighting Design from California Institute of the Arts, and is an alum of Stephens College. Previous design credits include: The Cripple of Inishmaan (Stella Adler Studios, NY), Gorgeous (The Actors Company, LA), Elizabeth Hammond-A Eulogy, Archipelago (Son of Semele, LA), Fantômas-Revenge of the Image (Whuzen, China), Francesca Francesca (Edinburgh, Scotland), Ocean of Milk (Prague, CR), of Light (Reykjavik, Iceland), Titanic – A Devised Piece (Moscow, Russia) Online: levaillantdesign.com
Hanna Sooyeon Kim (Projection Designer)
Read More
Recent design credits include: set and projection for Eva Trilogy directed by Loretta Greco (Magic Theatre), projection for The Christians directed by Hana Sharif (Baltimore Center Stage), With Love And A Major Organ directed by Jessica Kubzansky (Theatre at Boston Court), and Refractor Piano Concert with Peter Manning Robinson and Klaus Hoch (Vortex Dome). She is a 2018 Sherwood Awards Finalist and a recipient of Princess Grace Award. Her designs have won Helen Hayes Award, Stage Raw Awards, StageSceneLA Awards and Bay Area Theater Critics Circle Awards. Online: hananow.com
Jessica R. Aguilar (Production Stage Manager)
Read More
Jessica is delighted to return to her home theater for the holidays. Recent: A Night with Janis Joplin (National Tour); Our Town, Shout Sister Shout, The Originalist, Fly, Real Women Have Curves, Stop Kiss, 12 Angry Men (Pasadena Playhouse); reasons to be pretty, Death of the Author (Geffen Playhouse); Evita (Cabrillo Music Theatre); Fences, In the Red and Brown Water (Marin Theatre Company); Dementia (Los Angeles Theatre Center); Man of La Mancha, Hedwig & the Angry Inch (Cygnet Theatre). She is a proud member of AEA & an avid SF Giants fan. Thanks to SA 2-HW-PA- ML-MQH & TB!
Daniel Trostler (Assistant Stage Manager)
Read More
Daniel Trostler is thrilled to be back at the Pasadena Playhouse. Some of his previous Stage Management credits include Constellations (ASM, Geffen Playhouse); A Midsummer Night's Dream, Antony and Cleopatra, and Hamlet (Kingsmen Shakespeare Company); Real Women Have Curves (ASM, Pasadena Playhouse); Dame Edna's Farewell Tour (ASM, Dainty Productions). Daniel would like to thank Kristen, his wonderful parents, Donna and Bob, his friends, and the lovely Bee and adorable Gwen.
Media Sponsor

Thank you to our media partner: