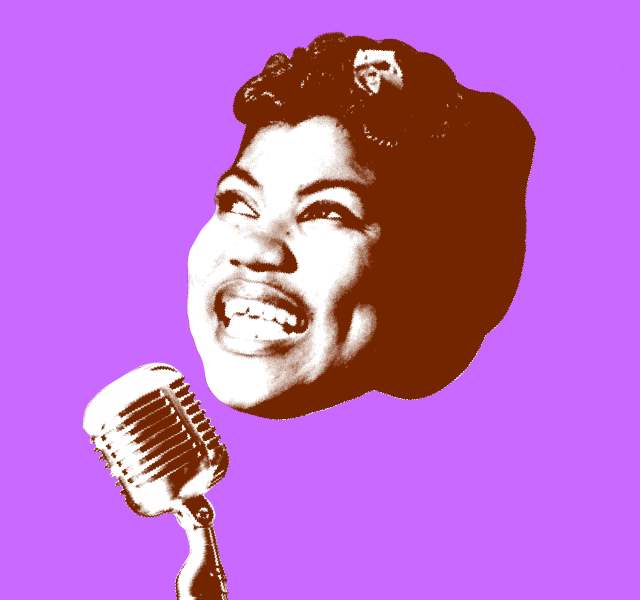 Shout Sister Shout! |
July 26 — August 20
The Gospel of Rock. The Spirit of the Blues.

Open your heart and soul to the legendary life and times of Sister Rosetta Tharpe in this world premiere musical directed by Randy Johnson, creator of the smash hit A Night with Janis Joplin. Hailed as the godmother of rock and roll, Sister Rosetta Tharpe's unique gospel voice and virtuoso guitar influenced some of the greatest musicians of all time, from Elvis Presley and Aretha Franklin to Little Richard, Bob Dylan, Tina Turner, and Johnny Cash. Shout Sister Shout! is a soulful and joyous noise that will inspire, entertain, and leave you wanting more.
"A rollicking celebration of her joyous spirit."
Book By Cheryl L. West
Directed By Randy Johnson
100 minutes
15-minute intermission
This project is supported in part by an award from
The Gospel of Rock. The Spirit of the Blues.

Open your heart and soul to the legendary life and times of Sister Rosetta Tharpe in this world premiere musical directed by Randy Johnson, creator of the smash hit A Night with Janis Joplin. Hailed as the godmother of rock and roll, Sister Rosetta Tharpe's unique gospel voice and virtuoso guitar influenced some of the greatest musicians of all time, from Elvis Presley and Aretha Franklin to Little Richard, Bob Dylan, Tina Turner, and Johnny Cash. Shout Sister Shout! is a soulful and joyous noise that will inspire, entertain, and leave you wanting more.
"A rollicking celebration of her joyous spirit."

No matching events listed under Shout. Please try viewing the full calendar for a complete list of events.
Calendar Month Navigation
| Sunday | Monday | Tuesday | Wednesday | Thursday | Friday | Saturday |
| --- | --- | --- | --- | --- | --- | --- |
| 26 | 27 | 28 | 29 | 30 | 1 | 2 |
| 3 | 4 | 5 | 6 | 7 | 8 | 9 |
| 10 | 11 | 12 | 13 | 14 | 15 | 16 |
| 17 | 18 | 19 | 20 | 21 | 22 | 23 |
| 24 | 25 | 26 | 27 | 28 | 29 | 30 |
| 31 | 1 | 2 | 3 | 4 | 5 | 6 |
+ Export Events
Special Events

Arrive early and get the full-throttle theater experience at Shout Sister Shout! Pose and play with new Gibson guitars, snap a photo in the Gibson guitar throne, hear live music and more.
July 26 – august 20
Gibson Guitar Interactive Experience
The Gibson Guitar exhibit features over 20 new models of Gibson Epiphone Guitars and is available for a "test drive" or photo opportunities in the Friendship Center. And, exclusively on display is Gibson's famous Guitar Throne: an 8-foot replica throne of Gibson Les Paul Guitars.
The Gibson Guitar Interactive Experience is generously provided by Gibson Brands, of the world's leading music and audio lifestyle companies.
Friday august 4; Friday august 11; friday august 18 | 7:30 P.M.

School of Rock Pasadena
Hear live performances by students of School of Rock Pasadena featuring hits by Sister Rosetta Tharpe and the artists she inspired – Johnny Cash, Chuck Berry, Jerry Lee Lewis, Little Richard, and others.
Sunday, august 6 | 6:00 P.M.

88.5 KCSN's Nic Harcourt
Nic Harcourt, regarded as an ultimate "tastemaker" in music and has been credited with launching the careers of Adele, Coldplay, The Black Keys, Norah Jones and others, will curate one-hour of music inspired by Sister Rosetta Tharpe.
PlayhouseTalks

Engage in lively dialogue with artists and renowned experts after Shout Sister Shout!
Friday july 28 | 8:00 P.M.

Gayle Freda Wald, writer of Shout, Sister, Shout!: The Untold Story of Rock and Roll – the book that sparked the musical.
Cast

Tracy Nicole Chapman (Sister Rosetta Tharpe)
BROADWAY: The Lion King (Shenzi), Caroline, or Change (Radio), Into The Woods (Florinda), The Music Man (Ethel Toffelmeir), The Who's Tommy (Acid Queen U/S), The Life, How to Succeed In Business… OFF BROADWAY: Little Shop of Horrors (Chiffon) 2015 Encores City Center. FIRST NATIONAL TOUR: Jelly's Last Jam (Hunnie #1) Dir. George C. Wolfe, Once On This Island. Regional: Running Man (Miss Look) Dir. Diane Paulus, Lonesome Traveler (The Muse) Rubicon Theatre, Dreamgirls Dir. Obba Babatundé, FILM/ TELEVISION: "The Wrong Coast" (Julie Wyvern) and "Across The Universe." Tracy's voice can be heard in "Grand Theft Auto V" and numerous commercials. She is a Songwriter/Producer honored by the International Songwriting Competition. Special thanks to Craig Holzberg. tracynicolechapman.com.
Logan Charles (Isaiah)
Born in Dayton, Ohio, Logan Charles moved to Nashville at the age of 10 to pursue his music dreams, and was soon recording and touring nationally. Shortly thereafter, he added acting to his repertoire and by age 13 had booked multiple national TV commercials. This led him to Los Angeles where he continued to hone his craft and became a founding member of a pop-punk band that toured globally. Logan is now honored to join the incredibly talented cast of Shout Sister Shout! for his theater debut at the Pasadena Playhouse. He is very grateful to his family, Symington Talent Management, and his agents at CESD for their endless support.
Yvette Cason (Katie Bell/Mahalia Jackson)
Yvette recently played Lillie Ann in Barbecue at the Geffen Playhouse. In addition, Yvette portrayed Aretha Franklin and Nina Simone in A Night With Janis Joplin at the Pasadena Playhouse and 5th Avenue Theatre. Other credits include: Ella The Musical, Dreamgirls, Play On! (Ovation Award), Once On This Island, Ain't Misbehavin', St. Louis Woman, Into The Woods and Sisterella (NAACP Theatre Award). Film: "A Wrinkle In Time," "Dreamgirls" and "Middle of Nowhere." She has toured with Whitney Houston, Stevie Wonder, David Foster and Babyface. Education: Berklee College of Music.
Michael A. Shepperd (Rev. Tharpe)
Michael is the Co-Artistic Director of Los Angeles' awardwinning Celebration Theatre (CT). Directing credits include: The Boy From Oz (Ovation Award, LADCC Award, Best Director), The Next Fairy Tale, [title of show], A Gay Christmas Carol, GaGa Gardens, Resident Director for The Blank Theatre's YPF festival and numerous others. Acting roles include Smokey Joe's Café; Pasadena Playhouse, Fences (Troy; Ovation, LADCC Nominations), Bootycandy (LADCC Nom, Ovation and Stage Raw Win), The Color Purple (Mister; Ovation award), Steel (Ovation Award), Master Harold and the Boys (NAACP theatre nom), Intimate Apparel (NAACP Award), Choir Boy (NAACP nom). Broadway/Regional credits include: Cathy Rigby is Peter Pan, Little Shop of Horrors, Caroline, or Change, Whipping Man. TV: "Curb Your Enthusiasm," "Soul Man," "Hot In Cleveland," "Wizards of Waverly Place," "Monk," "Frasier," "Criminal Minds," "NCIS."
Angela Teek Hitchman (Marie)
Broadway: Ragtime (John Ford Theatre), Oh Kay (Richard Rodgers Theatre), Toronto: Rock Of Ages (Royal Alexandra Theatre), Regional: Ray Charles Live (Pasadena Playhouse), Princess and the Black Eyed Pea (San Diego Rep.) Sophisticated Ladies (Redondo Beach Theatre), Joseph and the Amazing Technicolor Dreamcoat (Cabrillo Theatre Thousand Oaks), You Never Know (Pasadena Playhouse, Best Supporting Actor Nomination NAACP) TV: "Burning Zone," "Mr. and Mrs. Smith," "Baywatch," "Star Search" $100,000 Vocalist Champion, Film: Hollywood Shuffle; Animation: "Peg + Cat" (Voice of Viv the neighbor lady and Mama Bear). Angela is thrilled to be returning to the Playhouse and would like to dedicate her performance to her mom and her husband for their never-ending support.
Thomas Hobson (Ensemble)
Thomas Hobson is thrilled to return to the Pasadena Playhouse where he last performed in Smokey Joe's Café. Theatre: Curtis in Dreamgirls (TUTS), Sam Cooke in Recorded in Hollywood (Kirk Douglas Theatre), Complete History of America Abridged (Ovation Award, Garry Marshall Theatre), City Kid (Hudson Theatre), Ain't No Mountain High Enough, (Center Theatre Group). Film: Leading roles in "Stone/Fruit," "The Purple Rose," "The Stars Are Already Dead," "Ghosts of the Ozarks," "XXIII Boss." Television: Series regular on "The Fresh Beat Band" and "The Fresh Beat Band of Spies." Recurring role on "Rachel Dratch's Late Night Snack," Guest Roles on "Criminal Minds" and "NCIS: LA." Recording: EP "Beyond the Beat." Thomas would like to thank his tribe for their unwavering support. tommyhobson.com. Twitter/Instagram @tommyhobson.
Boise Holmes (Ensemble)
Boise Holmes is excited to make his Pasadena Playhouse debut in Shout Sister Shout! A Baltimore native, Boise is an LA-based actor/singer/VO artist/ writer/producer and speaker who has been seen and heard in numerous creative projects. On TV: "Chicago Fire," "Law and Order: SVU," "CSI: Miami," "NCIS," "30 Rock," "Black-ish," "Nobodies," "Doubt." Commercial/VO credits include:  McDonalds, Verizon, Toyota, Farcry5 Video Game. Boise spent over 2.5 years playing Mufasa in the German-speaking production of Disney's The Lion King, as well as Scar in the Hong Kong Company. He is a 1st place winner of the National Shakespeare Competition at Lincoln Center for his portrayal of Othello, and was awarded a full scholarship to study abroad at the Oxford School of Drama where he portrayed MacBeth. Other theatre credits include: Jesus in Jesus Christ Superstar, Walter Lee in Raisin in the Sun, Purlie in Purlie, Jim in Big River, Flyin' West at ICT (NAACP Theatre Award). He recently originated the role of the soulful Isaac Hayes in the smash-hit musical Heart of Soul (LA/Memphis) as well as starring as the great Duke Ellington in the highly-praised When Jazz had the Blues at The Matrix Theatre. Boise writes/directs/ produces his own one man vignettes which have been seen around the world (including Japan, Monaco, Hong Kong, London and Germany). boiseholmes.com
Armando Reinaldo Yearwood, Jr. (Ensemble)
Armando Yearwood, Jr. is honored to return to Pasadena Playhouse for Shout Sister Shout! Theater works include Seussical: The Musical, Twist: An American Musical, Seven Brides for Seven Brothers, Kiss Me, Kate!, In the Heights National Tour, West Side Story International Tour, and Dame Edna's Glorious Goodbye Tour. Armando also works at Disney's California Adventure where he plays Sven the reindeer in Frozen: Live at the Hyperion. You can also see him in the YouTubeRed film "Ghostmates," as a Bollywood Dancer, and as a dancing football player in the ABC comedy "The Real O'Neals." Armando would like to thank his friends and family for their continued support. INSTA: @Mando_Jr
Creative Team

Randy Johnson (Creator & Director)
Creator, Writer and Director of the 2014 Tony Award nominated production of A Night With Janis Joplin. "Randy Johnson certainly doesn't lack for ambition or vision, or social conscience. In the strictest sense of the word, he isn't a theater director – that might be too much of a constricted space for him, although he's certainly succeeded in almost every medium including; Broadway, Off Broadway, Regional Theatre and the Concert world. If there is a trademark for Randy Johnson's productions, it's that they're going to be nothing that you might expect.." The New York Times. randy-johnson1.com
Cheryl L. West (Book)
Cheryl L. West's plays have been seen in England, off-Broadway, on Broadway (Play On!) and in numerous regional theaters around the country. She has written TV and film projects at Disney, Paramount, MTV Films, Showtime, TNT, HBO, CBS and is the Webby-nominated writer for the original web series "Diary of a Single Mom." Ms. West is currently working on a pilot for the BET Network and commissions for Seattle's 5 th Avenue Theater, Chicago Children's Theater, Minneapolis Children's theater, Seattle Children's Theater and Oregon Shakespeare Festival in Ashland. Ms. West is thrilled to celebrate Rosetta Tharpe's life on stage and can't wait for the day she is finally inducted into the Rock and Roll Hall of Fame.
Keith Young (Choreographer)
Mr. Young's award-winning work as a choreographer includes, THEATER: Sammy, Old Globe Theatre (Critic's Choice Award/ Best Choreography), Broadway's On the Town, Ebony Repertory Theatre productions of The Gospel at Colonus, Robeson, and Crowns at both Ebony Repertory Theatre and Pasadena Playhouse. FILM: "Rent," "It's Complicated," "The Holiday," "What Women Want," "The Smurfs," "The Parent Trap," "Gone with the Bullets" (World Choreography Award / Best Choreography). TELEVISION:"Academy Awards," "Grammy Awards," "Emmy Awards," "NAACP Awards" and extensive episodic television. Mr. Young has worked with Madonna, Babyface, Bette Midler, Josh Groban, and Gladys Knight, to name a few. Mr. Young recently directed and choreographed Ebony Repertory Theatre's critically acclaimed production of Five Guys Named Moe.
Rahn Coleman (Music Director & Arranger)
Rahn's depth, passion and artistry are rarely matched in the areas of musical direction, piano and professional performance coaching. He has served as musical director, conductor and pianist for: Play On, Purlie, Blues in the Night, Lady Day at Emerson's Bar and Grill, The Wiz, Ain't Misbehavin, Ray (Charles), Play On, Sammy (Davis), Baby It's You, Breath and Imagination and Kiss Me, Kate, to name a few. A product of extensive classical training having studied under the renowned teacher Nadia Boulangier, Rahn has over 30 years of professional experience having performed, conducted, coached and arranged for such notables as; Aretha Franklin, Freda Payne, Nichelle Nichols, Michael Feinstein, Gladys Knight, Barry White, The Ojays, The Temptations, Wayne Brady, Tina Turner, Ray Charles, Sarah Vaughn, the Philadelphia Philharmonic, and the Clinton Presidential Inaugural Orchestra. Rahn is the recipient of national and international critical acclaim and always in the running for top honors. Hailed as one of the most effective performance coaches in the world, he has also shared his artistic gifts through service as Minister of Music at Christ the King and Faith Lutheran churches in Southern California. As producing director of "The Mystic Knight Recorder," LA's leading underground studio, new vistas for world class music and its performance are in constant creation.
Steven C. Kemp (Scenic Designer)
Steven C. Kemp is an NYC-based set designer for theater, opera and events. His designs have been seen Off-Broadway for Keen Company, Mint Theater Company, Second Stage Theatre, York Theatre Company, the Duke on 42nd Street, 47th Street Theatre, the Cherry Lane Theatre and The Playwright's Realm. Regional and opera credits include designs at La Jolla Playhouse, Asolo Repertory Theatre, Bucks County Playhouse, Hudson Stage Company, Royal George Theatre, Norwegian Cruise Line, Sarasota Opera, New Orleans Opera, Hawaii Opera Theatre, Opera Santa Barbara, Kentucky Opera, Merola Opera, IU Jacobs School of Music, SFCM, and Opera San Jose where his 13 productions include the West Coast premieres of Anna Karenina and Silent Night. He received his MFA from UCSD. stevenckemp.com
Dana Rebecca Woods (Costume Designer)
Dana Rebecca Woods is happy to be collaborating with Randy Johnson and the wonderful design team assembled for Shout Sister Shout! Her design work includes Single Black Female at Crossroads Theater; In the Red and Brown Water at UC Santa Barbara; Stop Kiss, Above The Fold, Fences, Flying West, The Importance of Being Earnest, and others for the Pasadena Playhouse; Jitney and Fences at South Coast Repertory, Blues in the Night at San Francisco's Post Street Theater; Train Driver, Heart Song, and others at the Fountain Theater. She has also collaborated with John Sayles on his film "Go For Sisters." When not designing costumes for stage, film, or TV, Dana creates teaching artist curriculum for afterschool programs.
Jared A. Sayeg (Lighting Designer)
Pasadena Playhouse: Casa Valentina, Breaking Through, Kiss Me Kate, Under My Skin, ART & Blues for an Alabama Sky. His designs have been seen throughout the U.S., Broadway, Off-Broadway, West-End, Canada, Spain, Edinburgh & Las Vegas. National Tours include Blithe Spirit starring Angela Lansbury, The Who's Tommy with Alice Ripley, Queen of Spades starring Placido Domingo (Madrid) and Rolling with Laughter at Her Majesty's Theatre (West-End). Broadway: The Illusionists (Neil Simon & National Tour) Bravo Bernstein, Gotham Glory (Carnegie Hall) and was on the design teams for: PRIMO, Andrew Lloyd Webber's The Woman in White and the "Radio City Christmas Spectacular." Jared is principal designer for the USA International Ballet Competitions held every four years. Jared became the youngest member of the United Scenic Artists-Local 829 and serves as a trustee to the executive board. jaslighting.com
Jon Gottlieb (Sound Designer)
Jon's design work at the Pasadena Playhouse includes Twelve Angry Men and Kiss Me, Kate! He most recently designed for the Geffen Playhouse's Big Sky, The Country House, Equivocation and Cat on a Hot Tin Roof, as well as Master Class with Tyne Daly at the Vaudeville Theatre in London and Manhattan Theatre Club on Broadway. Other Broadway credits include Neil Simon's Dinner Party, Terrance McNally's Master Class, and QED with Alan Alda at Lincoln Center. Center Theatre Group credits include iWitness (L.A. Drama Critics Circle Award), The Flower Drum Song (Ovation Award) and Hughie with Al Pacino. Jon has received eight LADCC Awards, three L.A. Stage Alliance Ovation Awards, and over 60 Drama-Logue, LA Weekly and NAACP Theater awards. Jon also serves as the head of the Sound Design program for the School of Theater at California Institute of the Arts.
Carol F. Doran (Hair & Wig Designer)
Pasadena Playhouse: Pygmalion; Kiss Me, Kate; Above the Fold; Baby It's You; Stormy Weather; Mask; Sister Act – the Musical, and more. Los Angeles: Over 50 productions for CTG (The Mark Taper Forum, The Ahmanson Theatre, The Kirk Douglas Theatre), also The Geffen and Deaf West Theatres. Regional: Cirque du Soleil; South Coast Repertory; The La Jolla Playhouse; The Goodman Theatre, Chicago; The Actor's Theatre of Louisville; The Asolo Repertory Theatre, Sarasota. Broadway: Spring Awakening, Big River, King Hedley II, Seven Guitars. Television: "Fargo," " Goliath," "Hell on Wheels," "The Walking Dead," "House," "Grey's Anatomy," "Six Feet Under" and others. Over 80 feature films including: "American Sniper," "Transcendence," "Thor," "The Dark Knight Rises," "The Blind Side," "Eagle Eye," "For Your Consideration," "Gods and Monsters."
Ticket Options

Tickets
Select a date in the calendar or call our box office at 626 356 7529 to purchase tickets.
Group Sales
Save 10% with a group of 8 or more. For more information, call 626 921 1161.
Rush Tickets
A limited number of rush tickets for all season shows are available exclusively through our ticketing partner, TodayTix.
Learn More or Download The App